Read Time:
3 Minute, 43 Second
I've never done an 'empties' post before, probably  due to the fact that I'm a sketchy individual and have a lot of beauty commitment issues – but for the first time I've noticed, I have a handful of products that I've actually managed to get through.
MAC Mineralize Skinfinish Natural Powder in Light – £21
I've had this since April 2012 and used it practically every day, so I'm really happy about how arguably cost-effective it has transpired to be, despite its hefty initial price-tag. Recently, I have completely written off foundation and opted instead for a moisturiser/powder/concealer combo, to embrace my ridiculously pale skin and to avoid the onslaught of bad skin that usually comes with a medium/heavy coverage foundation (coughcough Bobbi Brown, I'm lookin'atchu). I'm a big fan of this powder and, unless I can find something a smidgen paler; I think I'll be replacing it this week with another one. 9/10.
MAC Zoom Fast Black Lash – £14
I'm going to start this on a negative note: I'm pretty damn sure I won't be buying this mascara again. Whilst the coverage is fantastic and the black pigment is undoubtedly second-to-none, I found this mascara a little clumpy bitch to work with – often leaving me with that covetable 15-year-old chav's spider-eyes look, instead of the subtly but noticeably voluminous lashes I want. Instead, I have recently switched to Benefit's 'They're Real' mascara – the mascara of the moment in the beauty world. You can catch my review for it here. Another thing that put me off this mascara is the pain. You don't scrub every last bit of this beauty off with cleanser/wipes before you get in the shower, you're going to have one rough time. I spent a lot of time with bloodshot eyes when I first got this and hadn't cottoned on to its evil ways. Ironically, the mascara has proved more useful to me since it ran out: I've been using the wand to separate any sticky lashes after using 'They're Real'. 3/10.
Estée Lauder Pure Colour Velvet Lipstick in Black Cassis – £19.50
Now, this isn't actually empty yet – but I don't think it's going to see me through for much longer. I wasn't too bothered about that fact, until I – this very minute – discovered that Estée Lauder apparently no longer sell this colour… Now, I'm devastated. I absolutely adore this colour. It's vampy, it's multi-dimensional and I've never had more compliments for a lipstick, ever. At £19.50, yeah – it's steep, but it's lasted me since October last year, so a good 7 months or so now. I really hope they have some sort of close alternative to this, else I'll have to track it down on eBay and pay extortionate prices for it. Wah. 9/10.
Gucci Guilty Eau de Parfum 30ml – £40.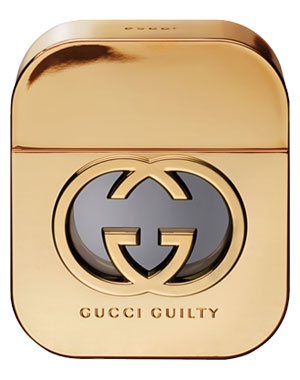 This popped its clogs a little while back now and I've moved on to Calvin Klein One Shock for a bit, after winning a bottle in a Cosmo competition. This perfume is lovely and, given it was a Christmas present, I'm unfortunately kind of unable to keep buying it due to the hefty price tag. I did, however, have it for a good ten months of hardcore usage, so it's arguably worth the money if you can afford it. 8/10 – solely for price.
Batiste Dry Shampoo in Boho – £2 approx. 
I don't think this really warrants an explanation or a run-through: if you're a human being with any sense of vanity or occasionally lax time-keeping, you'll know the incomparable usefulness of Batiste's dry shampoo. This one appears to have disappeared off shelves since I bought it about 3 months ago, which is sad as I quite enjoyed the musky festival scent, but I'll be sure to pick up some Tropical soon. 10/10.
Lush Celestial Moisturiser – £11.75.
Whilst, for the first time in three tubs, I'm not going to be replacing my Celestial moisturiser for a while now – I think it's a great, natural product that smells absolutely divine. Instead, I've moved on – perhaps only for the summer months – to the intensely moisturising L'oreal Paris Luminize moisturiser, which I review in my skincare regime post – here. I'm looking forward to finishing off my facemasks and being able to claim a new one through the 'return 5 tubs to recycle' scheme, soon!  7/10.