Read Time:
3 Minute, 48 Second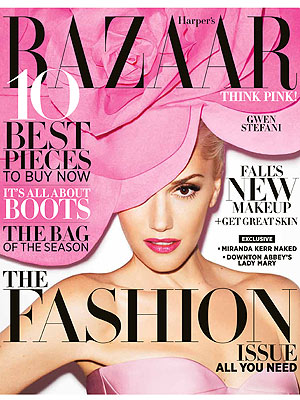 Gwen Stefani is definitely up there as one of the reigning queens of fashion-cool, which blossomed from her grungy Ska-pop ways of No Doubt back in the 90s, to her wackily wonderful Harajuku style that came with the release of her first album L.A.M.B. She then retained her quirkiness but became a little more mainstream with her fashion picks during the promotion of her second solo album 'The Sweet Escape'. However, now she's back on our TV screens and gracing the likes of Harper's Bazaar magazine covers to promote No Doubt's new single 'Settle Down' – and I'm hot on her fashion radar.
Her recent appearances include:
22nd July – Appearance with No Doubt at Teen Choice Awards 2012 – Sleek and Sophisticated. 
All the band members here look all grown up – there's no crazily dyed hair or over-punked outfits, just a nice little homage to their rocker roots with Dr Martens, all-over sunglasses and some funky brogues. However, Gwen looks the smoothest of all – in a sleeveless leather jacket, smart tailored pants, plain black heels and perfect gold accessorising. Team that with those gorgeous slight-cat eye 40s look sunglasses and No Doubt are BACK. Hair and make-up don't even need mentioning, Gwen Stefani is THE platinum hair and red lipstick combination.
 Then, for one of their first performances of their new single 'Settle Down' from forthcoming album 'Push and Shove', to be released on September 25th, the band members adorned themselves with complete monochrome looks.
Gwen is big on monochrome, purely because it makes her trademark platinum blonde hair and blood red lip stick out a mile, and it generally looks like it means business – which both Stefani and her band always have done.
I love this shot as she looks completely back in the zone – there's no sign on her face here that this is their first album release together in nearly 11 years! She still looks as youthful and energetic at 42 years old as she was doing the video for 'It's My Life' in 2003. Go Gwen!
25th July – Rehearsing Session with No Doubt – Little Leopard Overkill? I just do not know how to respond to this outfit. If I scroll up so I can just see her head and torso – it is grand. However, it does start to get a little sketchy when I scroll down and Gwen's also wearing yet more leopard print on her legs. If you want to rock this look without going a little too 'wild', I suggest you keep every aspect of the outfit – even the matchy-matchy jacket and top, but ditch the pants for dark blue denim jeans during the day, or smart tailored black pants for nights out. She only just gets away with this because she's Gwen Stefani and she's so damn cool. PS. The suit's Blumarine, guys.
27th July – Good Morning America No Doubt Appearance – Red, Red, Red. 
Right, this outfit may be dripping with Fendi and Olima but I don't buy it. The only thing I like about it is her accessories – which is a bad sign. I don't know where to start – the bizarre Docs/Uggs are absolutely baffling me, although they could be cool with something a bit less trailer park and a little more "I'm Gwen Stefani". The pants are too baggy and the top equally so – way to hide the 'yummy mummy's highly trained body. The collar design on the shirt is the only redeeming quality to me, it just looks generally shabby. I prefer Gwen's tailored looks any day.
6th August – On Holiday With Husband and Kids – Ultimate Beach Cool.
Weirdly, for an indoorsy girl, this is my favourite outfit of the bunch. I absolutely love the juxtaposition of the leopard print with the pretty rich patterns of the skirt/wrap she's wearing. Then tie in the effortless cool of her 'California' sleeveless vest top – ahh, so much fan-girling. You can easily replicate this look on your holidays, grab a cheap patterned bikini from New Look or even supermarkets like Sainsburys or Tesco (surprisingly decent stuff!) and team with a mismatched wrap around your waist – sexy but understated. Give it a go – you can mix it up with any patterns.
And just on a final note, if you haven't heard the new No Doubt single, or seen the video, you might want to check it out:
[youtube=http://www.youtube.com/watch?v=Pb_zZ3xItPI]