Read Time:
2 Minute, 32 Second
When I saw this job listing in May, my little heart dropped and I wished – just for a few fleeting moments – that I could be that little bit older, that little bit bolder and arguably a good deal wiser. If you've followed me for a while, or seen my application to the ELLE Edited By The Interns 2013, you'll know that I'm a big fan of the founder of RookieMag.com: seventeen-year old Tavi Gevinson. She has presented me with many an existential crisis at my twenty-years of age, having embarked upon her career from the mere age of eleven – leaving me to swallow my dashed hopes along with my long-lost ability to pull off a blue fringe and instead, consistently nag my sixteen year old sister to get her arse in gear and start some kooky blog. I digress: Rookie Mag has chosen a new Editor. Fanfares at the ready please, dun dun duuuuh: and it's none other than Danielle Henderson, founder of the Feminist Ryan Gosling meme/blog/book. Now, when I discovered this, admittedly I was a little downhearted as, personally, I feel like the only being of vagina-possession who a) doesn't give two cahoots about Gosling b) therefore, didn't find anything to do with Gosling being posed as a loveable feminist even remotely funny/informative/entertaining. I've already formed a duvet fortress to dodge the daggers and disbelief.
But I'm a black sheep in the Gosling world, and once I found out that Henderson and her friend had happened upon the idea whilst making prompt-cards for her Feminism revision at university, I was all in: revision and a book deal in one? Colour me beyond impressed. One thing that did hit me with a sense of wonderment however, was that unlike Gevinson and, from the looks of it – the bulk of the writers at Rookie who seem to gravitate around eighteen – Henderson is thirty-six. She's already a writer for the site, sure, but is this indicative of a mothering figure taking over some proceedings at Rookie? Don't get me wrong, I'm inspired by Henderson's achievements and I can see why that would be a good thing to bring to the forecourt, especially given her accolades are quite alternative and internet-related, which is something Rookie just loves. So maybe it's just me, but I love the idea of a bunch of late teens doin' it for themselves – just as my admiration for Gevinson has flourished mainly because of her age-to-success ratio.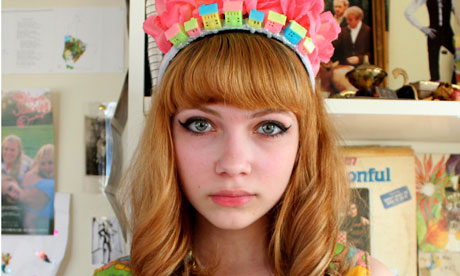 Either way, I wish all the best for the new editor and hope to see a post about her inauguration later on today. I'm guessing she'll be asleep now, being stateside – dreaming dreams of awesome. It's not even 9am here and I'm inspired. Hell, I even did weighted squats this morning and I've yet to consume even a thimble of tea. Bring it on Wednesday, today is excessive blog catch-up time/tonsillitis-beating/Soother-suckin' day.