Read Time:
2 Minute, 25 Second
Tomorrow marks the beginning of what could arguably be deemed Britain's biggest event in a long time – The Olympics 2012. The vast majority of us will be watching from our TV sets and cheering for our favourite British athletes, having British-weather-permitting Olympic-themed BBQs and hell, even Olympic drinking game sessions. But, my fellow fashion-lover, how do you go about showing your support through our best outlet of visual creativity – style? Here are a few ideas to perk up your outfits over the Olympic period, without busting your bank.
1. Barry M Glitter Nail Paint in Jewel Britannia.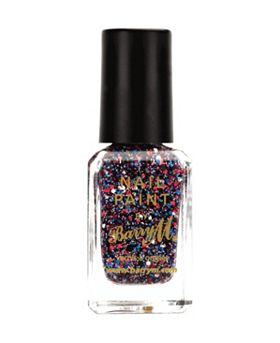 This is my firm favourite way of showing your homeland pride this season. At £2.99, nobody has any excuse not to be sporting this incredibly cute nail varnish. I will warn you, however, from attempting to purchase myself, as cheaply as possible – your best bet of the two stockists (Boots.com and BarryM.com) is Boots, where you can make an order of £20 and go and pick up from store for free, instead of paying delivery. Alternatively, you can get it delivered with £2.95 added to your bill. I say avoid BarryM as they charge you VAT of 50p as well as delivery! Shop Boots here: http://goo.gl/p9RCU
2. Karl Lagerfeld's Olympic Collection Exclusively at Selfridges.
If you fancy a little bit of a splurge, you can indulge yourself in Karl Lagerfeld's sporty-chic Olympic collection. As much as I like the idea of the Olympics, I agree with Chanel's King of Fashion who said: "I like the image and the idea better than to watch it" – I can't see myself particularly glued to the box this weekend, either – I'd much rather be hanging out with his kitten Choupette. Shop the collection, starting from only £16 (not bad for designer!), here: http://goo.gl/Ben1L
3. Look's Barry M-esque Freebie. 
Look have released a suspiciously similar lacquer shade to Barry M's in 'Cool Britannia', which you can get your fake-tan mitts on for free, if you buy two other Look products from their website. I can't really comment on their brand, I've yet to try it – but someone let me know if you already have some of their make-up, or even the varnish. Shop here: http://www.superdrug.com
4. Official London 2012 Umbrella
London is London and, despite the lovely weather you lucky Southerners have had of late – I'm sure there's going to be a time where our infamous rain strikes… And how better to ward it off than with this hella'retro umbrella? It features tiled poster prints from Olympics gone by and its cool monochrome palette will compliment any outfit you can think of. Shop here at the official London Olympics online store: http://goo.gl/bQhfP