Read Time:
5 Minute, 3 Second
If you've been reading my other posts, you'll know that I was lusting over Estée Lauder's new Vivid Purple collection – so much amazing colour. As described in my September Wishlist post, I gave in and bought some the other day and jumped on the Debenhams offer (Buy 2 EL products, get a free gift worth £60!).
Here's a review of the actual purchases, followed by the free gift:
Pure Colour Velvet Lipstick in Black Cassis
I'm already very, very fond of this lipstick – it sure packs a punch with the colour. It applies nice and evenly with just a couple of slicks – and I have a pretty damn chunky bottom lip. One thing that would be beneficial with this colour is a lip pencil which I unfortunately am yet to own – as sometimes it can bleed a little into the skin around the lips due to its high pigmentation. The colour itself is a dark raspberry/violet shade – which looks different in different lighting, but always stunning! I would definitely recommend this to anyone, despite the price tag, as expensive make-up is always of a great quality and I find it lasts much longer than high street brands. The below picture makes the colour look a little more raspberry than it is, due to the flash on my camera.
Take It Away Total Make-Up Remover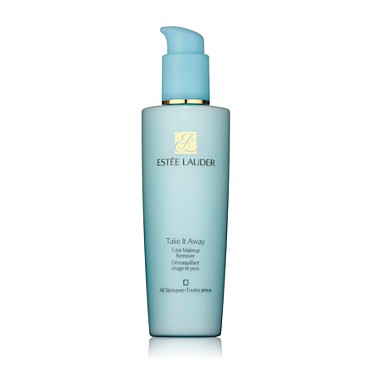 To qualify for the free gift, I purchased this make-up remover as the recent festivals have left my skin a little fragile and temperamental, so I needed a strict skincare routine to get it back on the right track. Although pricey at £22 normal RRP, this product appears to be brilliant value for money – with a decently sized bottle (which may I add, looks rather swanky and nice on my bedside cabinet) and the fact that you only need a squirt or two twice-a-day to get rid of your make-up. The remover leaves me feeling really refreshed and actually clean – as I realised that the make-up remover wipes that I used to covet so dearly only really take a certain amount of "slap" off – this stuff really gets into your pores and gets the dirt out. Depending upon how long this product lasts me, I would recommend it to frequent full-make-up wearers – I actually look forward to my skincare routine now!
Top Tip! – Instead of using little tiny cotton pads or balls to remove your make-up (especially given that this is a full-face remover), use @RainyDayFaces' idea and buy large square cotton pads from the baby section of Boots – genius! Although, I must say I felt a little weird mooching around the baby aisles…
Debenhams Free Gift worth £60
In the (admittedly pretty darn good) free gift, there will little samples of:
Advanced Multi-Protection Anti-Oxidant Creme SPF15
I really like this product (you're going to read this a lot for the duration of this post). After I've used the make-up remover at night, this gets slathered on – then in the morning, I put it on over the Idealist Even Skintone Illuminator and my skin's primed for any foundation that's about to hit it. It leaves my skin feeling silky soft and hydrated, without feeling greasy or cakey. At £39 a go, I'm not sure if I could afford to top up on this after the sample ends, with a student budget, but I can see why people who can afford to splash a little cash would invest in it – only a tiny, tiny bit is needed per application, I've had it 5 days and I'm still using the residue out of the lid!
Idealist Even Skintone Illuminator
As aforementioned, this product goes on before all your other base products – such as moisturiser or foundation. You only need to dab tiny amounts onto your finger and then rub into your face – again, this leaves the skin feeling plumped and silky – creating the perfect base for your foundation. I'm slightly worried that I went for this gift set if I'm honest, as I will not be able to afford to keep up the products once they're finished, without going shopperexic. At £47 for even the littlest amount, it isn't looking good for my bank balance… Or my fridge!
Perfectly Clean Fresh Balancing Lotion
I've never really been blown away with toners and this isn't really any exception. However, I must note that my overall complexion has drastically improved within the 5 days of using all the skincare products together – and it does make you wonder which one would take that away if you stopped using it. Ah marketing ploys. Anyway, this product fits in nicely with the rest and will last absolutely ages – my pores look nice and small on my nose, my odd blemishes are shrinking away with fear (probably of the Estée Lauder skincare combined cost) and it smells pleasantly fresh. At £21 for the smallest bottle, its cheaper than its skincare brothers and sisters – but I would be most likely to leave this one off my shopping list.
These don't seem to be being produced anymore, which is sad as I'd quite like one after this one goes. This product appears to be fullsized which is handy, with one purple shimmer colour on one side and baby pink shimmer on the other. Both colours are lovely applied on their own and the purple on conveniently looks brilliant over the top of the Black Cassis lipstick – woo!

There's also an absolutely amazing mascara that I will write a separate post about as it is a huge contender for my new staple mascara – watch out M.A.C! It also came with the bag in the picture above which was one of the major selling points to me as I've been looking for a nice, decently-sized make-up bag for what seems like an eternity.
What do you think of the offer, will you be checking it out?
Recommend any other Estée Lauder products?
xo