Read Time:
3 Minute, 59 Second
I've seen a few of these posts knocking around online and, despite the fact that I haven't done one of these since I was 13 and lime/pink was the height of cool on Piczo layouts, I thought I'd indulge myself and have a go. Now, most of this stuff is most definitely to remain a "wish", given I have just absolutely maxed myself out as a result of my London Fashion Week trip (so worth it!), but you never know what my student loan will bring…
Debenhams Jasper Conran Black Leather Herringbone Bow Gloves £25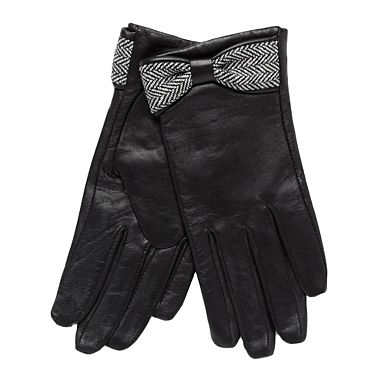 It's getting pretty chilly out there, if anyone hasn't noticed – and my hands are already sporting that undernourished blotchy pattern, so gloves are well up there on my wish list. I usually get wool gloves in the Winter, but given I live in one of the wettest cities in the country, I think I'm going to opt for some leather ones this year. There's a sophistication to leather gloves that I love – and the patterned bow detail keeps them on trend into Autumn/Winter12.  These would look adorable with the next thing on my wish list: a new trench coat – my ultimate Autumn favourite buy.
Topshop A-Line Peter Pan Collar Trench Coat – £65
I've owned two trench coats in my teens – one rather expensive navy one from Topshop that got sprayed with fabric paint in high school and consequently destroyed, and one rather similar to the above from H&M on a trip to New York – which, unfortunately, is looking a bit worse for wear at 2 years old. There's something about the Burberry-esque camel trench that I absolutely love and, given that I don't have a spare grand lying around – Toppers and H&M are my lifesavers for the eternally fashionable style. The trench can make any outfit look really snazzy, from a t-shirt with jeans and ballet flats, to your favourite LBD – that's why I love them so much!
Estée Lauder Pure Colour Lipstick in Black Cassis – £19.50 (online, cheaper in store at the moment)
This is one of the reasons I have absolutely no money right now – I managed to get hold of this before London. It matched perfectly with the wedges I bought, so I trawled a couple of Debenhams stores until I found it. I then ended up spending even more money as I got lured in by the recent offer of "Buy 2 Estée Lauder products and get a giftbag worth £60" which I snapped at. That's why I've linked the picture above to the Debenhams site, I do recommend that you go into the store to buy the lipstick as I was pretty impressed by the gift. (If you're wondering, I bought their Perfectly Clean Light Lotion Cleanser) Also, when I went, the Duty-Free Prices offer was on, so everything was a little cheaper, and I got a Debenhams store reward card, which meant I got a tonne of points with my purchase. I'll be reviewing my EL purchases later.
RegalRose Egyptian Ankh Symbol Ring – £9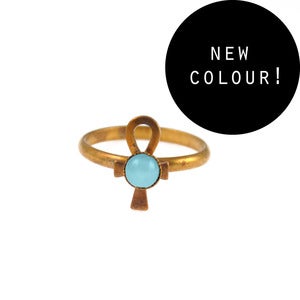 Fallen slightly in love with this little ring and I really, really want it. It's bang on trend and will look awesome with any grungy look especially. I'd be wearing it with my khaki camou jacket and Docs. If anyone wants to get me one of these, I'll love you forever…
Dahlia Daphne Multi-Coloured Brocade Pleated Dress – £68
Easily my most lusted after piece of clothing of the season. I absolutely adore the detail on this dress, and all of Dahlia's dresses unfortunately – I'd be teaming with an Autumn-transition cardigan, lacy ankle socks and T-bar heels. So cute.
Sleep-In Rollers – Original Gift Set – £24.95
Having notoriously straight hair (which is sometimes bizarrely the envy of some people – when I'm the one envious of their natural curls!), I can't wait to try these rollers out when I get a little cash and review them. I've watched the company boom on Twitter, with so many loyal and happy customers already – and their online presence is marvellous! I think these are going to be absolutely huge in stores, already getting into some Boots around the country – with celebrities like TOWIE's Amy Childs already having her own limited edition set on sale. I want, I want!
As always, all images will link to the item on the corresponding website so you can purchase yourself.
What would you put on your September wishlist? Why don't you write your own post and link me to it so I can have a gander?
Are you also drooling over any of the items that I'm after?
Or do you own any and want to tell me how good they are?
Drop me a comment!
xo