I feel the need to clarify that I, in no way, advocate or have any interest or affiliation with Thatcher's politics but, you've got to hand it to the woman – her wardrobe was pretty nifty at times. And hey, there's nothing wrong with celebrating a bit of fashion-related empowerment, right? So here's a quick wardrobe update for us high-street store dwellers: (P.s. If I find anyone wearing these to a 'Ding Dong, the Witch is Dead' party, I will not be impressed)
The Suit Blazer
There's nothing like a crisp, fitted blazer to make you look the business. There's also nothing like wearing a white crisp, fitted blazer – the embodiment of innocence – whilst you're taking on the House of Commons or, closer to our case: tackling that all important job interview. Worn most effectively with a coiffed ginger bouffant-y head and pearls.
Here's a similar River Island version for £65, not recommended for trips down the mines: soot and white? Dang.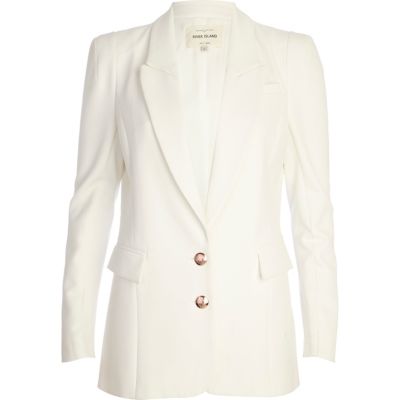 The Suit Pants
Wild card here on the Thatcher front. If you're one of those bizarrely despicable people who have started planning parties and riots celebrating the death of the first and only female PM, tone it down a little with a subtle middle-finger salute of wearing trousers, instead of Thatcher's quintessential skirt combo. Probably better than being a disrespectful arse and celebrating someone's death. Anywaaay, these beautifully fitted Reiss trousers are a little steep at £110, but a good suit will last you a good long time.
The Blue (Anything)
Margaret Thatcher was renowned for her love for Conservative blue: blue suits, blue suits and uh, blue suits. Let's bring it out of the 80s with this sexy and sophisticated full-length bodycon dress from Topshop at £25. 
Follow me on Twitter for post updates @Ebzo!