Read Time:
3 Minute, 24 Second
I'm bizarrely obsessed with these posts, seeing what ladies keep in their bags is oddly interesting – or maybe I'm just really nosey. For starters, I'm just going to put this out there: I never really carry a handbag. My bag of the day generally revolves around whether I'm in university or not and, if I am, it usually has to be a larger bag so that I can fit my MacBook and textbooks in there too – so I'm more of a satchel or backpack kinda girl. However, for the purpose of this post, I'll just cut it down to the basic handbag-y items that I shove in my satchel:
Panasonic RP-HTX7 Headphones in Sky Blue – £32.93 on Amazon
I got these on a wonderful, wonderful whim when I accidentally visited a HMV store the day before they all closed down and managed to pick them up reduced from £50 to £23. Felt decidedly guilty about my gain on that one, until some of the stores got saved recently. Headphones are a bit marmite-y: some people think you'll look like a tool wearing them, some people think they're all awesome and retro and blah. Personally, I got them because I get narked off when I can still hear people talking over my music, and I'm scared that one day I'll make myself deaf with my in-earphones as a result. The sound quality is pretty damn decent for such a cheap set and now that I've got a new iPhone again, I've barely taken them off because of Spotify and Soundcloud.
Psychedelic Cat iPhone 4 Case – £15ish at Urban Outfitters (Now only available on US site)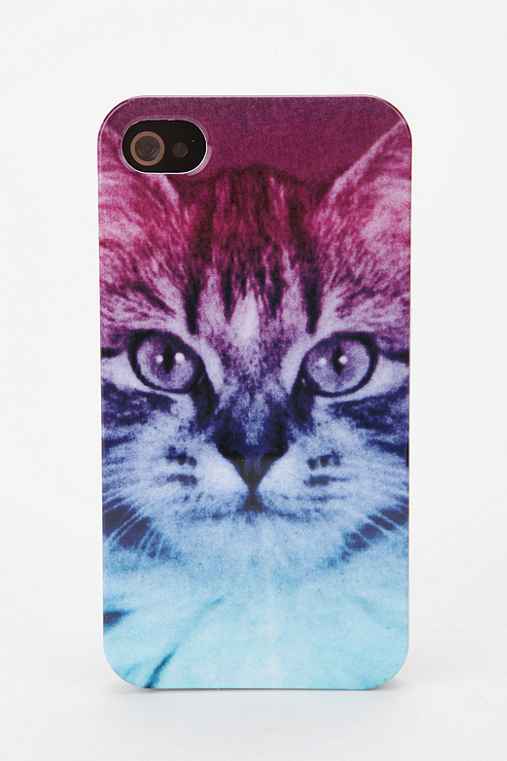 Pathetically happy that I can finally post about iPhone-y things again: mine got stolen at the end of October last year and I've been dealing with a pile of technological shite ever since. Until yesterday anyway, wahoo. I bought this case in the summer last year, after getting seriously narked off with Urban Outfitters' inability to make a clutch phonecase (I had to return two of them…).
MAC Mineralize Skinfinish Natural Powder in Light – £21 at MAC
I keep this in my bag, weirdly without the brush, to top up any shine during the day. This powder has lasted me a year now, but I don't really whap it on that much. It's good for paley girls like me, but don't cake it on as it can go a little orange-y if you're not careful.
MAC Lipstick in Ruby Woo – £14 at MAC
If I'm not carrying this: there is either something very, horribly wrong or I am severely hungover and life barely even matters. After I ran out of my old-faithful Russian Red, I switched to the slightly more bloody-toned sister Ruby Woo, who's doing me proud thus far. I dread to think how much of this stuff I have accidentally consumed over time. Or got all over my boyfriend's face…
Lush Vanillary Solid Perfume Stick – £6.50 at Lush
Lush sent me this a while ago and I am completely addicted. Read my review for it here.
Lined Exercise Book – £3 at Paperchase
Unfortunately had to post an alternative style to the one I picked up (they had mine in stock in Newcastle last weekend, not sure about anywhere else), as mine isn't on the website for some reason. I was eyeing this one up too though. This has come in endlessly handy with my current deadlines at uni, definitely good to have around to scribble down a point for a paragraph for a writing project. Zzz, work…
Java Mechanical Pen – £2 at Paperchase
Again, this goes hand in hand with the notebook – always handy to have it about. Need to start using the notebook more though, and stop writing rubbish on my hands.
The other items are Calvin Klein reading glasses, Accessorize purse that's no longer on sale and my unbelievably useful 16-25s Railcard. What's in your handbag? Feel free to link your own WIMH post below!
Follow me on Twitter @Ebzo.