Read Time:
4 Minute, 39 Second
Haven't done one of these in a damn good while – September 2012 to be exact, oops. Anyway, I'm on a worrying buying spree lately and have been eyeing things up to buy and write about on here, so here's a quick run down of the items I'm hoping to snap up this month:
Smart White Shirt – that actually buttons up to the top and isn't see through, preferably.
I've wanted a proper dress shirt for years, but I always end up picking up crappy alternatives that are complete 'woman fits' as in, they only do up to slightly above the chest, which really isn't the vaguely androgynous idea that I'm looking to go for. I'm keen on collar tips at the moment too, which'll also feature soon, teaming with the shirt, some smart shorts or a flare leather skater skirt with some clunky shoe boots – yes. Of the endless internet mooching in lieu of revision that I've been doing today, I've decided on one of these shirts.

ASOS Ladies White Shirt with Scalloped Collar – eBay auction.
This is so cute and long sleeved, which makes me really happy. I've developed a scary addiction to eBay clothes/jewellery shopping recently, which I'll be posting about either tonight or sometime later this week: it's wonderful. It's RRP £25 and currently the auction's at around £10 – so I'm going to bid up to around £18 I think. If not then,
Sod it, it's a guys' shirt but it's exactly what I want. Going to head into town tomorrow and probably end up picking one up, as there's apparently XS in stock in Lancaster – phew. Which technically renders the one above redundant but I bet I give into both, ugh. I'll be teaming this with leggings, as I'm hoping it'll be long enough to cover the elasticated waistband of the bottoms.
I saw this featured on a vlog of InTheFrow's this afternoon and Victoria's as crazy pale as me, so I'm hoping that it's going to be a good match for me too. I didn't actually buy mine off ASOS, instead – I got a used-once tube from a blog sale in America – saved nearly £10 which is great! I can't wait to get hold of it and do a review, especially as I've practically given up on foundation these days, opting instead for moisturiser and concealer, so hopefully it'll be a nice middle-man for the summer months.
I love this little trend, it's so cute and quirky. There are so, so many different types of collar tips on the high street now, but I find some of them to be a bit tacky – which is a bit of a joke when you see the ones that I'm craving…
Motel 'I Love Crafty' Cat Collar Tips – £12
Now, I'm putting these down as Motel, but if I end up buying them, I'm going to be opting for the seemingly identical versions that you can get shipped from China/Hong Kong for a fraction of the price of between £2.99/£3.99 with free shipping on eBay. Bargain, right?

eBay Black/White Umbrella Collar Tips – £1.59 free shipping (ORDERED, you'd have to be mad not to).
These were just too cheap not to check out – even if they're tripe, it's better than blowing a load on high street ones that absolutely everyone's going to be wearing. There are so many different types on eBay to choose from, all mainly under the £3 mark – which is far better than the £5 average on the high street.
After spotting this on the lovely Amy's blog, as a mildly crazy cat lady and lover of satire, I had to snap up a copy on eBay – I bet my addiction is becoming apparent now. The Céline shirt is ridiculously popular at the moment, so I love this little pisstake shirt. So chic in its funny little feline way.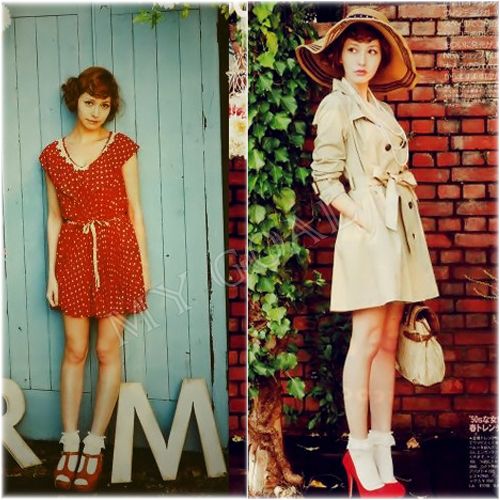 I've been looking for some of these to cutesy down heels and cutesy up my creepers and, what do you know – eBay comes out on top again. I've ordered all this random crap from Hong Kong and god knows where: I can only hope I'll actually one day receive it all. Just look how cute they are though – might have to start getting my bare legs out just for them.
Maybe it's the sun, maybe it's the festival season creeping in – maybe it's a resurgence of my teenage years (yes, I can say that now – cry) but, I'm currently worryingly interested in crazy leggings and tie-dye graphic shirts like these.
Veronica Fever Tie-Dye Grumpy Cat T-Shirt – £14.99
Just yes. I don't even think this warrants an explanation. The site is absolutely awesome: CC/Pokémon/kitten/hipster cross shirts – this brand is Tumblr heaven.
ROMWE Starry Night Print Leggings – Flash Sale 24 hours £13.42 with free shipping.
Thank you, thank you, thank you to Caitlin for this one. Bargains everywhere. The selection is incredible – I think everyone should buy a pair just because they're so awesome and awesomely cheap. I really shouldn't order these after my random shopping spreeing today, but I'm pretty sure I'll give in tomorrow morning and order a couple of pairs.
What've you got your eye on this month?
Drop me a comment or follow on @Ebzo on Twitter.